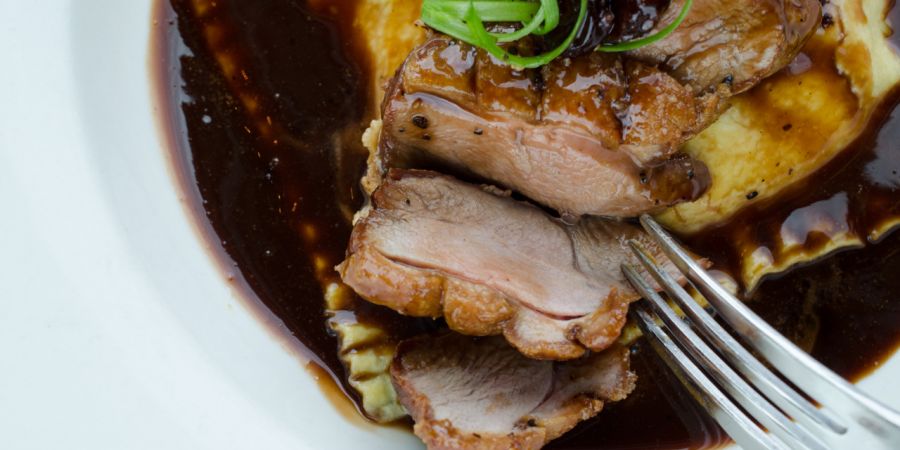 Notoriously Delicious
Ogden, Utah is a foodie's paradise.
Food. We all eat it, but we all eat it differently. Sometimes, we just need something fast and cheap, nutrition be damned. Sometimes we need the familiarity that comes from a chain restaurant, knowing that a chain's chicken fingers are going to taste the same in Sandusky, Ohio as they do in Huntington Beach, California.
But sometimes, we need to get out of the rut and try something new, and travel is the perfect opportunity to do that. After all, why venture hundreds or thousands of miles just to eat the same thing you could get just down the street from your house?
Ogden, Utah is a foodie's paradise. The density of independently owned and operated restaurants in Ogden's historic district is unparalleled. The epicenter of this culinary haven is Historic 25th Street…recently named as one of the "Ten Best Streets in America" by the American Planning Association.
A quick look at the options offered include fresh sushi, artisan pizza, authentic barbecue, gourmet Italian, southern comfort food and more. One of the best places to kick off an epicurean visit to Ogden is at Roosters. This local brewpub is considered an anchor tenant on the street and kicked off the revitalization and cuisine revolution that has become 25th Street over the last 20 years.
Roosters Brewing Co. owners, Kym and Pete Buttschardt have always enthusiastically welcomed new restaurants to the street and don't consider any newcomer as "competition."
"A rising tide lifts all boats," said Kym. "The more diversity of options people have, the more likely they are to spend time here."
Far more than just a platitude, the Buttschardts have put blood, sweat and tears into backing these words up. They helped form a loose coalition of downtown, independently owned restaurants that meets regularly and that organized the city's annual "Ogden Restaurant Week" which occurs every April.
If your visit doesn't coincide with the event, here's how you can make your own personal "Restaurant Week" experience…
Start with a locally brewed beer and an appetizer at the bar at Roosters. I recommend the pepper jack shrimp, known locally as "pepper crack shrimp" due to its addictive nature. Chat up the bartender and get other recommendations. You may decide to stick with Roosters for dinner and dessert, but if not, the bartender will be able to let you know what else is going on up and down the street.
If you're a sushi lover, you're going to hear about Tona Sushi. Owners Tony and Tina Chen (hence the name, Tona) have created a place that is regularly awarded "Best Sushi in Utah." Tony's experience in San Francisco exposed him to ethnic cuisines from around the globe, and his background in architecture means he doesn't just create or prepare a dish…he constructs it in layers and textures. The result is one of the most unforgettable Japanese dining experiences you'll ever have.
If you're a barbecue fanatic, head to Smokey's BBQ and Grill where you'll have a hard time believing you're in Ogden, Utah. You're more likely to think you're in Memphis, Kansas City, Texas or somewhere in the Carolinas. Tyrone, the owner, believes in the "low and slow" method and utilizes recipes he learned from his great-grandfather. Arrive early if you want to sample the burnt ends. They are incredibly popular and tend to vanish quickly.
If you're looking for more of a "locavore" experience, hit Hearth on 25th. This fine dining experience offers seasonal scratch recipes with a focus on live fire cooking. Beyond the wood fired wild game, fish, and breads from their kitchen, Hearth's pantry offers premium imported olive oil and vinegar, house made fresh and dried pastas, breads, sauces, and dressings.
If craft beer is a central part of your dining experience, venture north of Historic 25th Street a few blocks to the Ogden River Parkway, where you'll find Slackwater Pub & Pizzeria. With hundreds of micro-brews to choose from and a highly sophisticated menu, you'll enjoy your dining experience on the shady banks of the Ogden River.
Regardless of what dining experience you choose, and whether you're ready to wind the evening down or crank things up a notch, head over to Alleged. At this point in your visit, it will be easy to find because it's next door to Smokey's and across the street to the east of Hearth on 25th and across the street south of Tona Sushi (like I said, the density and proximity of these independently owned places is unsurpassed).
The lower level of Alleged has a thumping nightclub vibe and often features DJs and/or live music. The mid-level bar has a more relaxed feel, perfect for conversation over one of their many signature cocktails using locally distilled spirits. The rooftop bar offers unobstructed views of 25th Street below and the Wasatch Mountains beyond. Alleged isn't a 7-day-a-week bar, so check on hours of operation before heading that way.
If you're in need of a late-night snack when all is said and done, step out of Alleged and across the street to Lucky Slice Pizza and grab a slice of the most popular gourmet pizza in Northern Utah.
If you're a true foodie and looking to make your visit to Ogden a multi-day adventure, start your next day off with breakfast at either Pig and a Jelly Jar, The Bickering Sisters or Karen's Cafe. If your belly isn't quite ready for a mountain-town breakfast, hit Daily Rise Coffee or Grounds for Coffee for some locally roasted coffee and a pastry.
If you're here in the summer, venture out to one of the lakes, rivers or trails to burn off a few calories in preparation for another night of local dining. If you're here in the winter, one of the three ski resorts, the nordic center or a bit of snowshoeing will do the same. If outdoor adventure isn't your thing, there's indoor surfing, climbing and skydiving. If you're not an adrenaline junky, take in the multitude of art galleries and museums, or maybe some small-town professional baseball at the most scenic ballpark around.
If the notoriously independent vibe of Ogden isn't your thing, might I recommend the chicken fingers at Applebee's followed by whatever blockbuster is playing at your local Megaplex.
if(!in_array('110', explode('|', '{widgets_assigned_ids}'))): ?>
endif; ?>