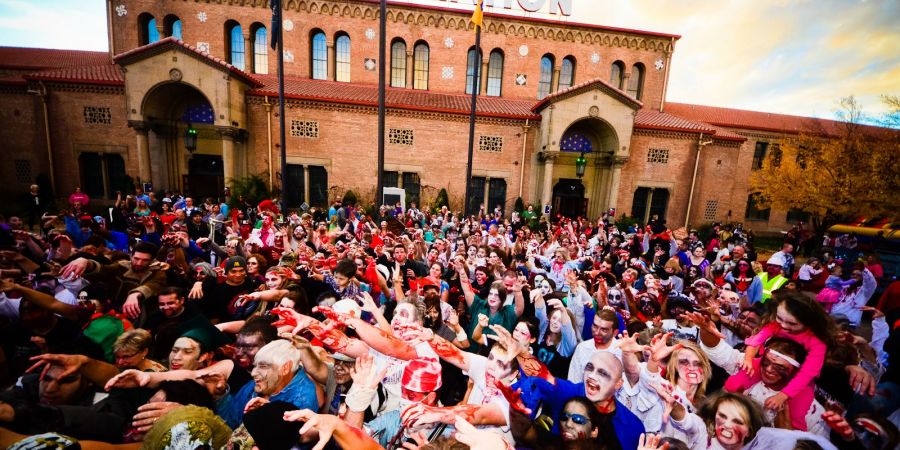 It's OGTOBER!!
No, that's not a typo. The thing is, October in Ogden is so uniquely different that it merits it's own brand: Ogtober.
Yeah, it all ramps up to the spooks and ghouls thing toward the end of the month...and does so with enthusiasm...but we'll get to that in a bit.
This year, Ogtober kicks off with some first-time offerings for visitors and residents. The Farmer's Market Ogden has been transformed into the Fall Market, which goes until the last Saturday in October. This summer heat has made for some fantastic late-season, full of flavor harvests of locally grown fruits and vegetables and arts and crafts vendors have continued to increase virtually every week. The last two Markets are probably the ones you don't want to miss.
Mid-Ogtober sees the flavor of events that October is known for, only amplified in true Ogden style. "Night at the Museums" offers paranormal tours inside and under Ogden's iconic Union Station. Talk to anyone who works in or around Union Station, or even anyone who has spent a moderate amount of time there, and you'll find true believers in paranormal phenomenon...even among those who were once die-hard skeptics. "Night at the Museums" tours are available on both Fridays and Saturdays, October 14-15 and 21-22 and cost $25 per person. More details are available at www.theunionstation.org.
Of course, there are abundant "haunted" houses, forests, corn mazes and pumpkin patches throughout Weber County during October, but Ogden's signature Halloween event has become "Witchstock."
Witchstock takes place on October 22 and kicks off at the Ogden Amphitheater with a "Witches Tea Party." The costumed event includes dinner and drinks, music and a costume contest for $20, with proceeds benefiting the Junior League of Ogden and its efforts.
Immediately following the Witches Tea, revelers roll out of the amphitheater to join the "Zombie Crawl" down Historic 25th Street. The Zombie Crawl is a free-to-all free-for-all. Thousands of locals in full-on zombie make-up stagger and crawl their way down to Union Station, then return to the Ogden Amphitheater where the festivities continue with the "Monster Bash" dance party. Beer and wine are available for those who need a little liquid courage to get the dance moves going.
Those not inclined to go "full zombie," line the street, often in "zombie hunter" gear. Regardless of what approach you take, the most important thing you'll need for this event is your camera.
Those familiar with Peery's Egyptian Theater know that it's a spectacle in and of itself and worth a visit anytime. However, it Ogtober, it will host screenings of some classic films in its one-of-a-kind setting. On October 28 and 29, screenings of "The Rocky Horror Picture Show" will play to sold-out audiences. Pre-show entertainment is provided as well as "prop bags" for the full "Rocky Horror" experience. Costumes are highly encouraged and advance ticket purchase is pretty much required for this popular event.
Ogden restaurants even catch the Ogtober fever. Looking to try an excellent seasonal beer, by Roosters Brewing Co. or Slackwater Pub and Pizzeria are the places to find some pumpkin and harvest style locally crafted beer. Enjoy endless sushi at the Tona Shushi Halloween Bash. Listen to tales of the night and readings from Edgar Allen Poe and Rovali's Ristorante Italiano's Poe Night October 13-15.
Whatever your inclinations are for Ogtober, be sure to have a spooktacular time!
Happy Ogtober!
if(!in_array('110', explode('|', '{widgets_assigned_ids}'))): ?>
endif; ?>