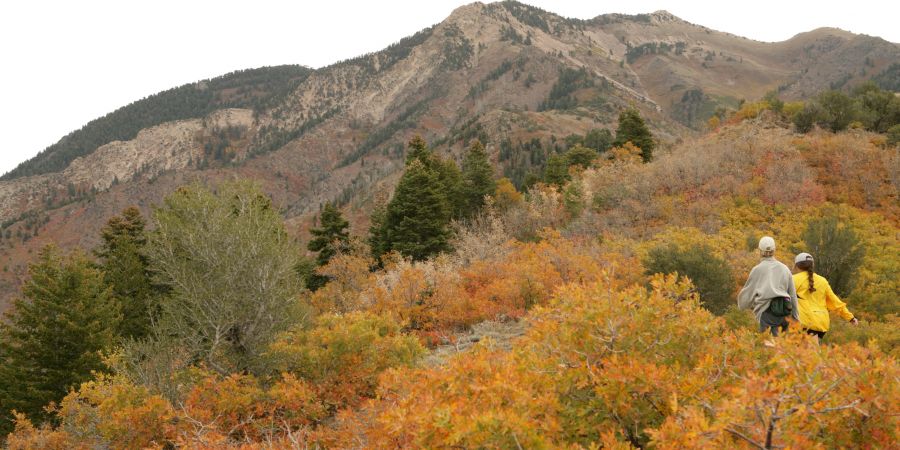 A Hiking Haven
Get Moving!
If you tell someone they have three choices of ice cream flavors — chocolate, strawberry or vanilla — they'll make a choice in an instant and likely enjoy whatever flavor they've chosen. However, if you give them a few dozen options, they'll anguish over the decision much longer and likely experience buyers remorse after their purchase..."I probably should have opted for burnt almond fudge instead of the cookies and cream."
With that thought in mind, here are the hiking equivalents of chocolate, vanilla and strawberry when it comes to Ogden hiking. Three distinct and satisfying options with no regrets.
URBAN/SMALL CHILDREN
Park at Rainbow Garden at the mouth of Ogden Canyon and hike westward on the Ogden River Parkway. This shaded and paved path parallels the scenic Ogden River and is ideal for the youngest hiker...right down to those in strollers.
Stop in any one of dozens of pull-outs and let the littles throw rocks and sticks into the river...unless a fly fisherman is working a run. Spy a few of the dinosaurs inside the Dinosaur Park, stop at the various playgrounds along the parkway — Big D Park, Lorin Farr Park or the new High Adventure Park at 18th and Grant Ave. Take a little time to explore the Botanical Gardens as the trail approaches Monroe Blvd.
This hike is an out-and-back venture where you can turn around at any point based on the cooperation of the kids...but the cooler temperatures and abundance of activities along the way is likely to keep them engaged.
CANYON/INTERMEDIATE
Head up Ogden Canyon to the Wheeler Creek Trailhead, just below Pineview Dam. This up-and-back hike provides shade from steep canyon walls and tall trees. Again, you can turn around at any point based on your fitness level or time restriction.
In the words of Yogi Berra, when you come to the fork in the trail, take it. Meaning, hang a right at the fork that heads up to the area that locals call "The Icebox." This option keeps you in deep shade and parallels a babbling stream lined with wild berries.
Keep an eye out for descending mountain bikers. They tend to be moving quickly as "The Icebox" descent is typically the reward for several miles of climbing. Trail etiquette dictates that bikers yield to hikers, but stepping off the trail and extending a friendly "hello" to a descending mountain biker is pretty easy and is hugely appreciated.
HARDCORE
The Hidden Valley trail is a gem that isn't widely known...even among Ogden locals.
You'll start at the 22nd Street Trailhead and head up Indian Trail...the trail is well marked due to the efforts of volunteers from Ogden Trails Network and Weber Pathways.
However, just before Indian Trail enters Ogden Canyon, be on the lookout for an unmarked and relatively unworn fork to the south. At this point, the trail steepens significantly and becomes a bit of a scramble over the exposed face of the mountain. Take in the views of the city below every time you stop to catch your breath, take a drink and figure out where your next scramble leads. There will be plenty of these stops.
The payoff for this hike comes as you crest into the aptly named "Hidden Valley." The exposed route you've just endured gives way to flatter ground and tall pines. Follow the trail to its end, place a rock on the cairn you'll find there, and enjoy the view into Taylor Canyon as you regroup for your descent.
Regardless of which "flavor" hike you choose, make your way back to town and hit Farr's (21st and Grant Ave.), where you'll anguish over dozens of ice cream flavors and peruse the Weber Pathways map trying to decide on your next adventure.
if(!in_array('110', explode('|', '{widgets_assigned_ids}'))): ?>
endif; ?>