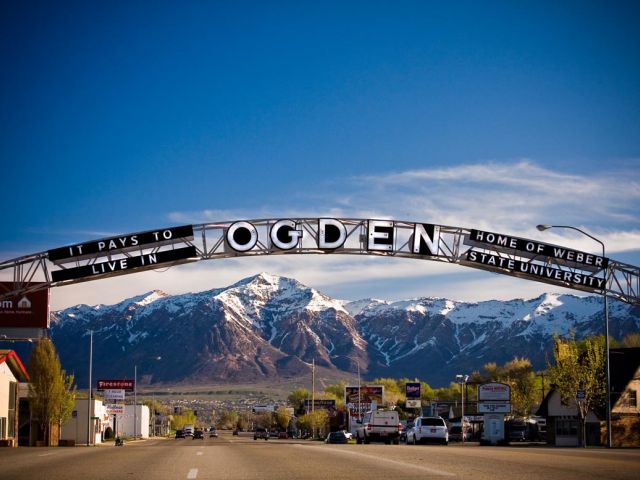 5 ways to elevate your winter vacation in Ogden
If you're a fan of the great outdoors, chances are good that you're already aware that Ogden, Utah is the perfect place for a winter getaway.
From the rush of a snow-covered mountain to live music at the local bar, Ogden offers a diverse array of activities and attractions within reach. From gourmet dining and energetic nightlife to rugged outdoor recreation, here are five ways to elevate your winter vacation while visiting Ogden.
Experience The Greatest Snow On Earth!

Carving s
ome turns at Ogden's three ski and winter resorts is just the beginning of your winter vacation in Ogden.

If you are a powder-hunting hound who loves off-piste adventure, Powder Mountain has what you are looking for. Cat skiing, side-country and backcountry tours and over 7,000 acres of mind-blowing powder make Powder Mountain the biggest resort in the United States! With an average annual snowfall of 500 inches, there are plenty of untracked runs to be discovered all winter long.


Snowbasin Resort makes sure you spend a lot more time on the slopes than you do standing in lift lines. With 11 total lifts and 3,000 skiable acres, Snowbasin is known for its challenging slopes as well as gentle beginner terrain. This 2002 Olympic Winter Games venue offers a world-class ski experience without the crowd and is often referred as 'Utah's best kept secret.'

Nordic Valley is a family fun headquarters. The learning center and Kids Zone offers quality children's ski or snowboard lessons and programs in a safe environment. The resort offers a great value with specials every weeknight and programs for the entire family.

Craving something
a little outside-the-box from your Ogden Ski experience? Try cross country skiing at North Fork Park, or grab the whole family and put on some ice scates or support our local hockey team, the Mustangs at the Weber County Ice Sheet.


Explore by Foot

While the name may seem counterintuitive to visitors, Ogden Valley sits at a higher elevation than Ogden City. Head up to the valley and explore Utah's great outdoors by foot when you book a snowshoe or cross-country skiing outing with Ogden Nordic.

Choose from an affordable selection of rentals for a daytime outing with your kids and pups in tow. If you enjoy exploring a snowy landscape under sparkling stars with the help of the moon try one of their Moonlight Glide Tours.


While downtown, park the car and take advantage of our walking tours. Wander around our breathtaking river walk that can lead you to hiking trails on the bench of the mountain. Several local businesses stock the comprehensive trail map produced by Weber Pathways, one of the area's non-profit trails advocacy organizations.

Lets Eat!

You've worn yourself out romping around the great outdoors, so its time to treat yourself with some delicious craft beer and a basket of wings.


Warrens Craft Burger is one of many mouth-watering restaurants in downtown Ogden. With a large selection of craft beers and a taste bud tingling peanut butter and jelly wings you will be sure to find something that curves your cravings.

Burgers and wings not your victual of choice? Downtown Ogden offers a wide selection of restaurants ranging from family favorites like Roosters, authentic Mexican dishes at El Matador Restaurante, or a romantic night out at Restaurant 1107 and everything in-between.

Apres with Art, Music
and Entertainment

Now that you're nice and relaxed, it's time to scope out Ogden's unique arts, music and entertainment. If you're in town at the beginning of the month, don't
miss our First Friday Art Stroll and the incredible opportunity to browse locally owned shops on Historic 25th Street.

Learn about Ogden's gritty history at all four of the Union Station Museums where you can view old trains that once brought travelers, bootleggers and presidents into the Junction City.

If music is your passion, don't miss live music every weekend at Snowbasin Resort's Cinnabar Lounge or head downtown and enjoy a cold brew
at Brewskis while rocking out.

Catch a show the iconic Perry's Egyptian Theatre, one of six Egyptian Theatres still remaining and operating in the United States today. Or head over to Movie Grille for a top-shelf movie and dinner experience.

With kids? The Tree House Museum is in the heart of downtown and will encourage wandering minds to explore.

Plan. Sleep. Repeat.

Whether you're a yearly Ogden tourist, planning your first Ogden trip, or a resident who explores our city regularly, there is an application you need to download right now.
One Ogden.

This free app is available through the iTunes App Store and Google Play and will keep you in the know. You will have access to walking tours, where to eat, daily events, precise details of how close your next destination is and much more!

I perused that handy resource this morning to pick out a sampling of some of the best things happening around Ogden this weekend. Here are a few highlights of things to do:

Calendar of Events
if(!in_array('110', explode('|', '{widgets_assigned_ids}'))): ?>
endif; ?>